The Attorneys of Vincent W. Davis & Associates
offer our clients the combination of skill experience and dedication that our clients can rely on during times of real need. We understand how difficult legal matters can turn a person's world upside down in an instant. We are committed to helping people overcome the challenges they are facing. Our goal is to help you to see the future you want and to help you build it. Through strategic analysis and highly effective litigation and negotiation skills, we are able to provide our clients with clear choices and the means to achieve those ends.
Los Angeles Business, Real Estate, Probate, Family, Criminal Defense Lawyers, Juvenile Dependency
A legal problem can throw your life into turmoil. The law firm you turn to can make a significant difference in the outcome of your case. Whether you are seeking a visa to live and work in the U.S. legally, are considering filing for divorce, or have been injured in an accident, you will find a passionate advocate at the offices of Vincent W. Davis & Associates. We are your family's total law firm.
Se habla español ▪ Мы Говорим по-Русски ▪ We speak Chinese ▪ We speak Vietnamese ▪ Schedule a consultation ▪ Flexible appointments
We believe in your cause and we believe in your future. Call us toll free at 626-446-6442 or contact us by e-mail to schedule a consultation at one of our convenient offices in the Los Angeles metro region.
We can help with Personal Injury, Accidents, Juvenile Law, Motorcycle Accidents, Serious Injuries, Construction Site Accidents, Workers Compensation, Employment Law, Unpaid Bonuses, Product Liability, Elder Abuse, Landlord Tenant Law, Medical Malpractice, Immigration, Family Law, Probate, Insurance Laws, Bankruptcy, Criminal Defense, Real Estate Law, Contracts, Tax Laws, Worker's Compensation, Product Liability And More.
We will attempt to get you maximum recovery under the law.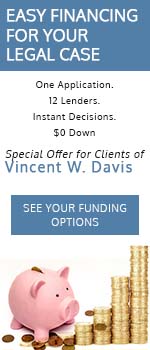 Results Matter!
Read Rachelle D.'s review of Law Offices Of Vincent W. Davis & Associates on Yelp
Read S S.'s review of Law Offices Of Vincent W. Davis & Associates on Yelp
Read Vanessa F.'s review of Law Offices Of Vincent W. Davis & Associates on Yelp